The Dawson Series
See The Dawson Series by Eliza Tree, 16 drawings based upon information drawn from James Dawson – Australian Aborigines: The Languages and Customs of several tribes of Aborigines in the Western District of Victoria, Australia.  George Robertson Press 1881. All captions are from the book.
Who is James Dawson?
James Dawson was a Scottish 'squatter' in the Western district of Victoria in the 1850's. He and his daughter Isabrella were some of the very few who were 'sympathetic' towards the local Tribe whose Country they 'occupied' They allowed the 'rightful owners' to continue to live on 'their/his?' land, and continue to live their cultural life and ways.
First published  in 1881, Australian Aborigines holds unique insights into daily life and cultural material. Initially Dawson wrote shorty articles for local newspapers, and was scorned upon by other squatters for recognising their humanity, and defending the unjust treatment and attitudes towards 'original owners of the land'
After deciding that his careful description of the tribes, languages, customs, and characteristics of the First Nations peoples of the western district of Victoria was too bulky for its originally intended publication in newspapers, he decided to publish this book. Essentially a field-inspired anthropological account of the local Aboriginal population, written before the emergence of anthropology as a formal discipline. Dawson's book draws on his daughter's ability to speak the local languages and attempts a balanced description of a culture he considered ill-used and under-appreciated by white settlers. Minute details about clothing, tools, settlement and beliefs combine to depict a complex society that possessed highly ritualised customs deserving of respect. Dawson also included an extensive vocabulary of words in three Indigenous languages that he hoped would facilitate further cross-cultural understanding. His work provides valuable source material for understand the complexity and utility of daily life in at the frontier of dispossession and land invasion.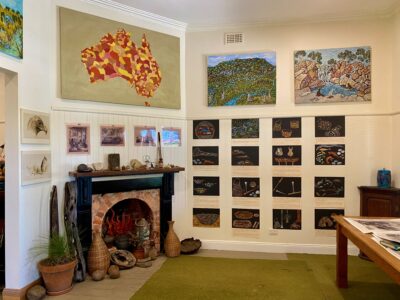 The Dawson Series on the wall during Arts Open 22, March 2022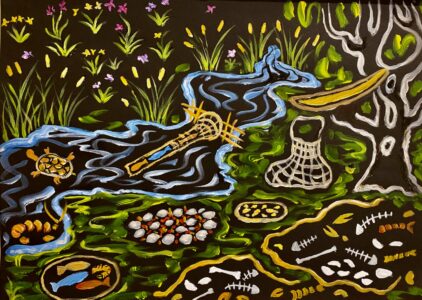 Eliza Tree, Campsite and utensils, 2022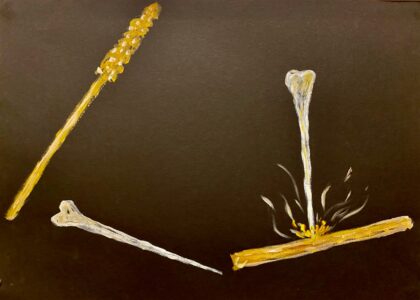 Eliza Tree, Implements for Fire,  2022