Home
http://www.elizatree.com/gallery/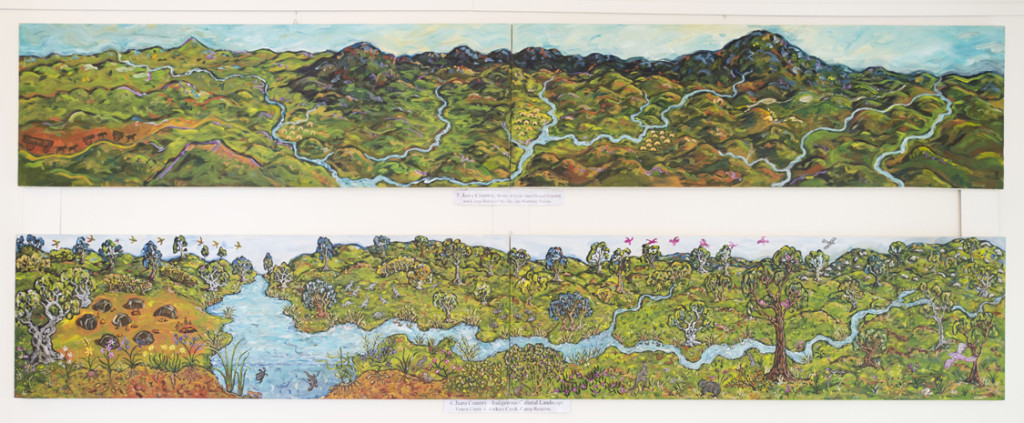 Eliza Tree is again presenting her exhibition of paintings, maps and text, to share her insights into the early history of our region. The collection reveals a fascinating cultural, ecological and social landscape beginning with Dja Dja Wurrung occupation and ownership of the country. She uses historical documents and sources to question our assumptions of exploration, pastoralism, colonial expansion, and the time leading up to the gold rush.
In 2010 Eliza traced the 1836 Expedition of Major Mitchell, and has since continued to research and explore the descriptions of Major T L Mitchell and others, to understand and transcribe the landscape he saw and described in such glowing terms – the Australia Felix.
"Following Major Mitchell's journey to the Australia Felix – the abundant or happy Australia – in 2010, opened my eyes in a fresh way. Following his maps and descriptions of the land has given me the opportunity to translate it into a visual narrative through my paintings," says Eliza.
Her research, focused on Central Victorian Jaara Country, has also revealed many other early texts, unearthing an intriguing picture of times prior to the gold rush.
"There's lots of information available. It's a matter of joining the dots. It's useful both in understanding the past, and recreating the future. LandCare groups throughout the region have done amazing works to restore creek lines and waterways, especially the Forest Creek area in and near Castlemaine city which was so dramatically disturbed during the gold rush, and other areas infested by weeds and willows."
Eliza Tree's exhibition focuses on Forest Creek as the heartland of Jaara Country. Beginning with exploration and pastoral invasion she uncovers a new history of pre-gold rush and beyond. She hopes to expand our perception of Indigenous stories of both culture and nature and help to restore an understanding and a vision for today, into the future.
Lyttleton St Studio. 94a Lyttleton St, Castlemaine.(Corner of Urquhart)
Launch: Thurs 13th August 6 – 8 pm
Open: Fri 14th – Sun 16th , 1 – 5 pm.
              Sat 22nd – sun 23rd, 1-5 pm.
               Sat 29th – Sun 30th, 1 – 5 pm
Join us for a warming gluvine and chat beside the fire,
or by appointment – M: 0409 209 707.