Open Studio 2023

Port Jackson – Sydney Harbour – Eora Country- Before the Invasion.
BOUND FOR BOTANY BAY?
Questioning the intentions and context of colonial settlement- Invasion of Australia via Botany Bay; and the expansion of British empire.
Was it a dumping ground for convicts, or a military and trade outpost in the Pacific, – with convicts as slaves?
By revisiting historical records, and re-interpreting hidden histories, I seek to comprehend the colonisation – Invasion of Australia, and the dehumanisation of Indigenous peoples and voice, within the deliberate narrative of concealment, to justify the dispossession.
This exhibition seeks to illustrate and illuminate the dynamic palimpsest of people, attitudes and events, contained, constructed and concealed within the Colonial Narrative.
Local artist and expeditioner Eliza Tree pursues her relentless search for a deeper understanding of where we have come from, and how we got here :
Expansion of Empire, Cultural genocide, global capitalism, and environmental exploitation, resulting in the current Climate Crisis.
Big questions, presented through Visual Narrative: paintings, text, maps and images.
Details:
STUDIO 137
137 Mostyn Street, Castlemaine
Open: 10am – 4pm
Sat 25 March – Mon 27 March
Fri 31 March – Sun 2 April
Fri 7 April – Sun 9 April
or by appointment eliza@castlemaine.net or 0409 209 707
I am number 4 on the Castlemaine State Festival Open Studio map.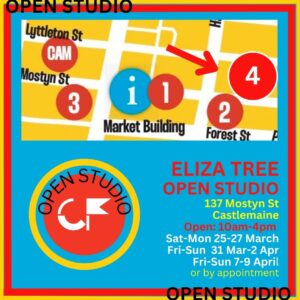 Preview of the Exhibition.
25 March 2023