About
Eliza Tree Artist and Expeditioner
Lives and works in Castlemaine, Central Victoria.

I have been painting and exhibiting since studying Fine Art at the National Art School (1980's), followed by a BA at LaTrobe University (1990s). Since moving to Castlemaine in 1999 I have participated in many Castlemaine Fringe, Arts Open and State Festivals.
I combine my creative passion, academic historical research, and deep concern for the climate crisis, to explore culture, ecology, and landscape. My visual arts practice is of multi-disciplinary enquiry, drawing upon historical documents, contemporary sources, images, maps, and journals, to challenge the meta-narrative of colonialism in early Australia, particularly Victoria.
The practise I have developed is of 'visual narrative' to describe and revisit Indigenous culture and cultivated landscapes of Dja Dja Wurrung Country and Peoples, during early colonial contact in Victoria. This is a little understood time of great denial, tragedy and change.
My paintings are highly descriptive and have often been credited with filling essential gaps in our fragmented history of colonisation/invasion. In 2010, I retraced the 1836 Major Mitchell Expedition followed by a symposium and exhibition. Other exhibitions include 'Journey to Gondwana Felix', 'Exploring the Living Landscape', 'Land Rush to Gold Rush', 'Dja Dja Wurrung Country' and 'At the Frontier'.
My AV Visual Narrative presentation allows us to re-visit and re-assess the many narratives of our region of Central Victoria, the 'Australia Felix' – the happy/abundant Australia.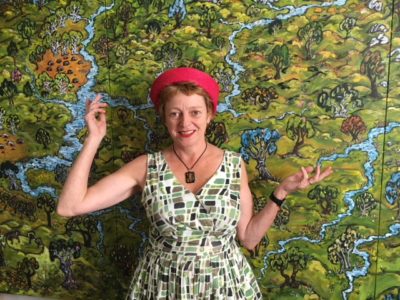 Some History
1976  Journey to Aboriginal settlement 'Umbulguri' northern WA
1981-83 Lived, worked, travelled in Australia & O/S
1983-86 Fine Art Diploma. ESTC. (National Art School) Sydney
1986  Midnight Oil Black Fella White Fella Outback tour.
1987-89 Lizard Lines Studio Sydney. S E Forest Campaign.
1989  Travel in North and Central America.
1990-94  BA Peace Studies, La Trobe University. Bundoora.
1995-98  Melbourne. Self employed. Environment, Art & Design.
1999  Moved to Castlemaine
2001 Joined Castlemaine Fringe, became regular exhibitor
2001-21 Purchased property Walma in Walmer, Converted to Trust for Nature property
2008-9  History Subject Units. La Trobe Uni. Bendigo
2010  Major Mitchell Expedition re-tracing T L Mitchell 1836 Expedition
2011   Major Mitchell Symposium. Castlemaine Town Hall.
2015  Royal Society of Victoria – Blandowski Presentation
2016  Arts Open. 'Revisiting Indigenous Cultural and Cultivated Landscapes'
2017  Castlemaine Festival. 'Dja Dja Wurrung Country'
2018  Arts Open. 'From Invasion to Recognition'
2020  'At the Frontier'  Questioning the meta-narrative of  'peaceful settlement'
2022  Arts Open 'Making the Invisible Visible'
2023 Open Studio 'Bound for Botany Bay' +
Contact: PO Box 546 Castlemaine Vic 3450
Email:  elizatree@castlemaine.net
www.elizatree.com